Inventor of Obinaquine gel &
Obinaquine vaginal suppository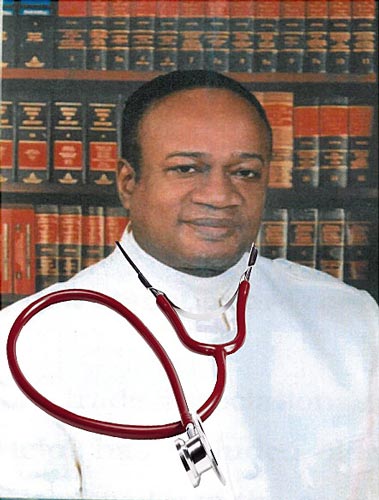 Like the inventors of many new products concepts, Dr. Obi was inspired with the idea for the Obinaquine Gel and later developed the Obinaquine Vaginal Suppository due to personal experience and observation. He was utilizing the original formula (Tablet Form) for the treatment of another condition when he realized that it was helping to heal the genital warts he had. Thus he formulated the Obinaquine Gel and later Obinaquine Vaginal Suppository for the cure of external Genital Warts and prevention of Genital Cancers of HPV genesis which the medical needs have not been met respectively.
Invention is the ability to recognize and remember upon seeing or noticing something unusual or extraordinary that has been absent in our surroundings hitherto, said Dr. Obi. When Dr. Obi noticed the life saving value of his invention, he decided to use the right modus operandi to seek for its patent and submission of the novel to USFDA for approval in order to help human race and animal kingdom inflicted with the deadly indolent disease that is known to be recalcitrant and indomitable to mankind up to this time.
Honest to goodness, the world would be thankful that something good has happened in a bad ugly situation at last, said Dr. Obi. From this point on, Obinaquine has come along to meet the medical need that was not there before. HPV has remained very elusive for centuries, but not anymore due to Obinaquine Invention. The invention would definitely take the wind out of sail of Human Papilloma Virus and its related cancers universally, said Dr. Obi. The Human Papilloma Virus (HPV) will have to find another means of making a living without using human race as a host.
As it is said that a single invention, if it is right, saves us the hard labor of an infinite of experiences and research. With the use of Obinaquine throughout the world the morbidity and mortality statistics numbers of all kinds of genital cancers (Cervical, Penis, Vaginal, Vulva and Rectal cancers et cetera et cetera) will drop exponentially throughout the universe within 10 years to come, said Dr. Obi. This novel has no equal to the existing remedies and no comparison.
| INDIA | 135,000 Women diagnosed with Cervical Cancer due to HPV per year. (2014) 75,000 dies from it per year. 6,250 dies each month in India. |
| --- | --- |
| U.S.A. | 12,109 women in the United States were diagnosed with cervical cancer. (2014) 4,092 women in the United States died from cervical cancer. (CDC DATA) |
| Worldwide | Cervical cancer kills an estimated 275,000 women every (2014) year and 500,000 new cases are reported worldwide. |
THESE NUMBERS ARE ALARMING AND STAGGERING, ALSO IT HAS SURPASSED THE BREAST CANCER & EBOLA COMBINED ESPECIALLY IN INDIA
Dr. Obi who was born in 1948 in a city called Port Harcourt, Nigeria in West Africa and also a citizen of the United States. He was educated in Nigeria as well in the United States of America and Mexico. He earned his Bachelors Degree in Pharmacy from Texas Southern University in Houston, Texas and a medical degree from Juarez Medical School, Mexico. The inventor has been a resident of his community for 40 years and previously lived in Nigeria. He conducted extensive Preliminary African Studies on Obinaquine which took place in Graceland Medical Centre, Lagos Nigeria, a foremost Medical Facility which his partner and co-founder Dr. Ejike M. Obi assisted. In his spare time, Dr. Obi enjoys compounding drugs to treat diseases and seeing if they work.